Next week marks the 10th anniversary of Hurricane Katrina. Next week, I'll be back in New Orleans for the first time in several years. More than anything, I'm looking forward to seeing the incredible folks from the non-profit organization lowernine.org.
All month long, they have been running a 50 States Campaign, hoping to raise $50,000 so they can continue with the work they do. I hope you'll consider giving a small amount.
Let me tell you a little about them…
In my basement hangs my favorite New Orleans souvenir: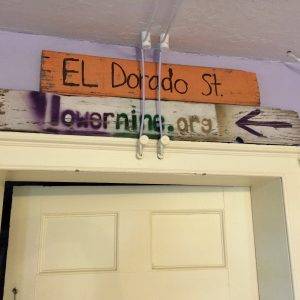 It's a street sign from the Lower Ninth Ward. During Hurricane Katrina, most of the street signs were washed away, making it next to impossible to identify homes and property. Lowernine.org was one of the organizations that took the initiative and put up new makeshift street signs.
In the years following Hurricane Katrina, I traveled to New Orleans many times with groups of teen volunteers. We worked with local non-profits and community organizations, and most of the time we worked with lowernine.org. To date, they have fully rebuilt 75 homes rendered uninhabitable in 2005. They completed smaller repairs and renovation projects on over 200 more residences — numbers that represent over 10% of returned residents in the Lower Ninth Ward. They brought more than $8 million in volunteer labor to bear in the neighborhood. Lowernine.org has brought more Lower Ninth Ward families home than any other single organization.
Laura Paul is the Executive Director. In this brief 2014 vid, she talks about the organization and the amazing work they continue to do:
In the coming days, you're going to see a tremendous amount of news coverage for this 10th anniversary. If you're so inclined, please consider giving a small (or large) amount to lowernine.org.
Oh, this is my other favorite souvenir from New Orleans: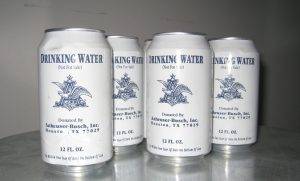 These are cans of water. When the U.S. government was unable to provide drinking water to the hundreds of thousands people in desperate need of the basics to survive, the private sector stepped in.