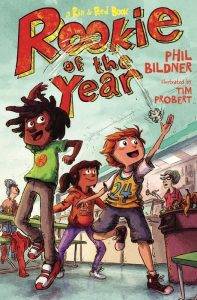 Rookie of the Year
By Phil Bildner; Tim Probert (Illustrator)
Pub. Date: July 12, 2016
Publisher: Farrar Straus Giroux
Format: Hardcover, 272 pages
Age Range: 8 to 12
ISBN-10: 0374301344
ISBN-13: 978-0374301347
Buy This Book
Get this book for your own!
Awards & Honors:
2018-19 Young Hoosier Book Award Nominee (Indiana)
2017 Notable Social Studies Trade Book for Young People
2017 Junior Library Guild Selection
Trailer
Check out this trailer for the book!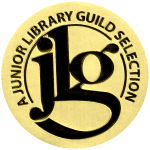 Just when they think they've got the hang of things, Rip and Red find that fifth grade continues to challenge them in head-spinning ways. Tiki, a new girl whose Egyptian dad is an animal-rights activist, has just joined their class. She's charismatic, funny―and she's got game! Rip has his world turned upside down as Tiki proves to be tough competition on the Clifton United basketball team and leads a rebellion against the lousy new food service in the school cafeteria. Red―a kid on the autism spectrum―is struggling with the upheavals as well. But as these two funky and funny best friends discover, sometimes radical change is the right move, on the court and off!
---
Reviews
School Library Journal:
Gr 4–6 — In this sequel, readers return to fifth grade with Red (a red-haired boy on the autism spectrum) and his best friend Rip (an African American boy with dreadlocks) and their friends and classmates. Red and Rip continue to love and play basketball and are on the team coached by their teacher Mr. Acevedo. Those new to the series will get enough details and will be completely engaged in the shot-by-shot descriptions of basketball games. Added to the class is a new student, Takara (Tiki). Tiki is that student who loves to be involved in everything. One of her best quirks is inventing new words. Tiki is also an excellent basketball player. Rip has a run-in with Coach Acevedo when he puts Tiki into the first team out each game and leaves Rip for the second. Rip is hurt and angry, but only time and experience on the basketball court will bring Rip to an understanding. The secondary part of the plot is the plan, by the class, to get rid of the new lunch ladies and bring back the Lunch Bunch and their better meals. It includes mounting a GoPro camera on the back of classmate Avery's wheelchair. As in the first title, there are no surprises, but that doesn't prevent this from being a great read. VERDICT This fast, fun read featuring characters who love books as much as basketball will appeal to sports fans and nonathletes alike.—Susan Lissim, Dwight School, New York City
Kirkus Reviews:
Following series opener A Whole New Ballgame (2015), this second installment of the Rip and Red series finds the eponymous fifth-graders feeling pretty good about the year…until a new girl turns their world upside down.A diverse cast of characters highlights this good-natured, high-spirited slice of life at Reese Jones Elementary School. Narrator Mason Irving, nicknamed Rip, is an African-American student whose mother is a principal at another school. Blake Daniels, nicknamed Red for his hair, is on the autism spectrum, Avery is in a wheelchair, and their new teacher, Mr. Acevedo, has family in the Dominican Republic. Mr. Acevedo's class is a student's dream—lots of breaks in the school day, few tests, and not much in the way of worksheets. Enter Takara Eid, called Tiki by her friends, with an Egyptian father and a forceful presence. Tiki turns out to be quite the basketball player, and she leads a protest against the terrible food in the cafeteria. Her aggressive personality forces everyone to rethink their places in the elementary school universe, and everyone is changed. Even Red makes satisfying emotional progress and becomes something of a hero in the end. Bildner, a former teacher, casts an affectionate eye on school life and creates likable characters in realistic school situations, managing to make characters unique within their school group. An engaging, feel-good novel about elementary school life. (Fiction. 8-12)