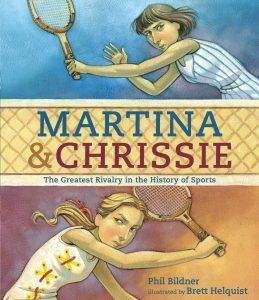 Martina & Chrissie
Pub. Date: March 14, 2017
Publisher: Candlewick Press
Format: Hardcover
Age Range: 7-10
ISBN-10: 0763673080
ISBN-13: 9780763673086
Buy This Book
Get this book for your own!
Trailer
Check out the official book trailer for MARTINA & CHRISSIE, created by Lizzy and Emma Rekate from the American School in Japan.
Awards & Honors:
2017 Evanston Public Library — 101 Great Children's Books Published in 2017
2017 Junior Library Guild Selection
2017 Chicago Public Library Best Books of 2017
---
Reviews
Booklist (Starred Review)
Sports rivalries are compelling both on and off the court, and Bildner and Helquist bring a particularly notable one to the pages of this picture book about tennis stars Chris Evert and Martina Navratilova. In an energetic, conversational tone somewhere between sports commentary and classroom lesson, Bildner tells the very different stories of the two women's starts, beginning with Evert's tennis-focused youth in Florida and Navratilova's childhood in Communist Czechoslovakia. Though their playing styles were vastly different, they were both determined players who each drove the other to train even harder. The circumstances of the Cold War made many expect the rivals to hate each other, but they defied the odds and became great friends. Helquist's spirited acrylic-and-oil illustrations highlight pivotal matches between Evert and Navratilova, and his expert renditions of their facial expressions, which sometimes fill entire pages, bring home the intensity they each brought to their game. While this rivalry existed in a quantifiable world of winners and losers, Bildner emphasizes a different side of competition: "No rivalry is ever just about the numbers. Martina Navratilova and Chris Evert made each other better players, and better people, too." This spirited, engrossing story, containing an inspiring message and enough information for the fact hungry, is a fantastic addition to all sports collections, particularly ones needing more titles featuring women in sports.— Anita Lock
Publishers Weekly
Bildner (Marvelous Cornelius) and Helquist (The Doll People's Christmas) offer a gripping dual biography of Martina Navratilova and Chris Evert, two athletes who could not be more different, despite their shared talent. "Chrissie was this All-American girl," writes Bildner. "Patience and poise and precision." Martina, meanwhile, "was all emotion, all the time." Bildner's conversational narrative creates an instant bond with readers ("Keep in mind, this was during the Cold War. You know what the Cold War was, right? No?") as Helquist deploys a series of play-by-play action scenes that capture the speed and intensity of their many tennis matches. But just as important as their competition was the unexpected bond the two women formed off the court: Bildner holds Evert and Navratilova up as an example of how friendship need not always play by the rules. Ages 7–10. Author's agent: Erin Murphy, Erin Murphy Literary. Illustrator's agent: Steven Malk, Writers House. (Mar.)
School Visits
Interested in having Phil visit your school or event?
Click below and learn more!
Out Of My Mind
Check out some of the vids from my YouTube series.  They're pretty cool.