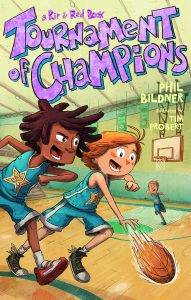 Tournament of Champions
By Phil Bildner; Tim Probert (Illustrator)
Pub Date: June 6, 2017
Age Range: 8 – 12 years
Grade Level: 3 – 7
Series: Rip and Red (Book 3)
Hardcover: 256 pages
Publisher: Farrar, Straus and Giroux (BYR)
Language: English
ISBN-10: 0374305072
ISBN-13: 978-0374305079
Buy This Book
Get this book for your own!
Trailer
Check out this book trailer created by Kristen Picone's 5th graders from RJO Intermediate School in Kings Park, New York.
It's spring of their fifth-grade year and Rip and Red have a thrilling opportunity to participate in a weekend basketball tournament with a few other members of Clifton United. While the tournament is only a short bus ride away, both boys will travel outside their comfort zones. Ultra-competitive Rip must play on a team with kids he doesn't like. But he faces an even bigger hurdle when someone from his past returns, someone he hasn't seen in years, someone who just may derail the entire weekend. As for Red, because of his autism spectrum disorder, he's never traveled anywhere without his mother. Will he muster the courage to take the trip? Fortunately for both boys, also on the team is an unlikely addition, a source of inspiration who helps everyone discover the true meaning of the word champion.
Tournament of Champions is the third book in Phil Bildner's Rip and Red series.
---
Reviews
Kirkus Review
The latest installment of the Rip and Red series features more basketball action and slices of middle school life.
Mason "Rip" Irving and Blake "Red" Daniels are finishing their fifth-grade year at Reese Jones Elementary school. When their coach, Mr. Acevedo, announces an invitation for their travel-league basketball team to play in the upcoming tournament of champions, the boys are excited. But when Rip's father comes back into his life as a chaperone for the trip, Rip feels "the best basketball weekend of my life was turning into a disaster." Rip's father (who is white) hasn't been in his life for a long time, and now he may be a distraction at the worst possible time. More than the abundant basketball action, Bildner's diverse cast of characters is what energizes this tremendously engaging story. Rip is mixed-race (his mom is black), Red is white and on the autism spectrum, and Diego Vasquez, Latino and a cancer survivor, is back playing ball. "You learn a lot about how you deal with things when you have cancer," Diego tells Rip. But every character has issues to face, and each student, including Rip, comes to realize that "Life is about playing the cards you're dealt."
Another solid volume in a fun and lively series. (Fiction. 8-12)