Dav Pilkey, A Real-Life Superhero
This is a full-circle story, twenty years in the making.
Back in 1997, I was teaching sixth grade in the Tremont section of the Bronx. My new boyfriend (now husband) at the time worked as an associate editor at Scholastic. He gave me a bunch of copies of the first book in a new series he was working on that the company was launching — The Adventures of Captain Underpants by Dav Pilkey.
The book was an instant hit.
Like countless other teachers, librarians, and parents over the years, I witnessed something exciting and remarkable: kids who hadn't found a book that they liked to read… had finally found one. Those so-called "non-readers"… were reading.
We read The Adventures of Captain Underpants as a read-aloud in class, and afterwards we wrote thank-you letters to Kevin and Dav.
Oh, how I wish I had set aside one or two of those first editions we had in Class 6-413!
Never underestimate the power of the snail mail thank-you note.
Dav responded on Kat Kong stationery. Here's what he wrote to "Mr. Bildner's Class" all those years ago: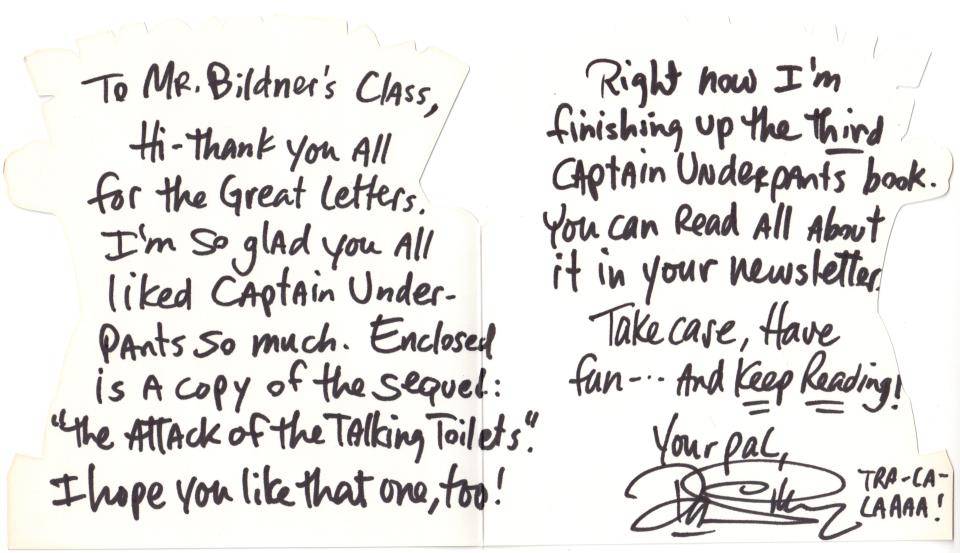 Tra-la-laaa!
These days, when I visit schools, kids often ask me what my favorite book is. I'm never able to pinpoint one title, but I'm able to pivot and answer with what I feel are the two most important books — Harry Potter and the Sorcerer's Stone… and The Adventures of Captain Underpants. More than any other books, these helped turn a generation of kids into lifelong lovers of books and reading.
---
In November of 2015…
I attended the NCTE annual convention in Minneapolis. My new Rip & Red middle grade series had launched a few months before, and the kind folks at Macmillan/FSG were gracious enough to send me to the convention.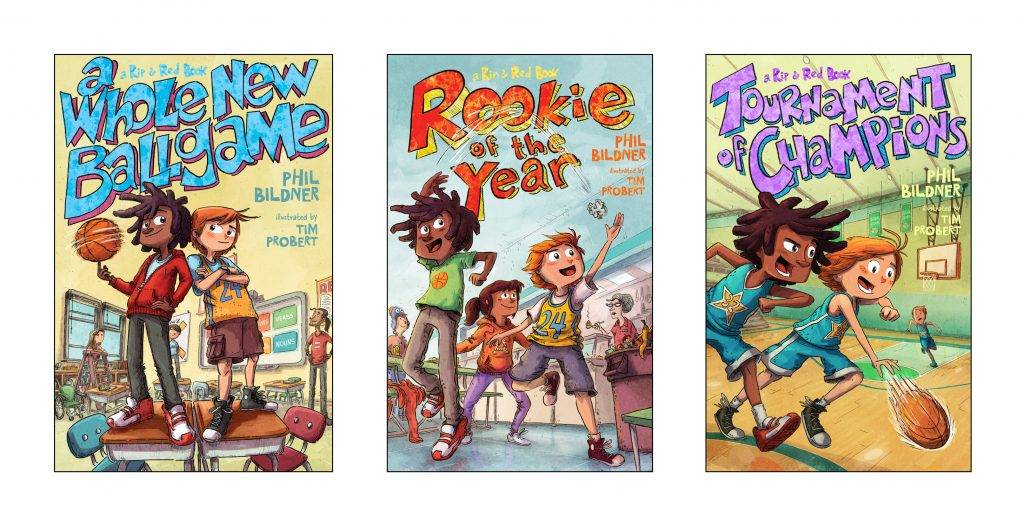 For so many reasons, it was the best conference I ever attended.
I got to sit on a panel moderated by Susannah Richards, I connected with Laurel Snyder at an amazing dinner hosted by Chronicle Books, I went out for a spontaneous drink with LeUyen Pham and John Schu, and I bonded with superstar editor and SJW, Joy Peskin.
It was at this conference that my social media and virtual world came to life.
I met so many people — friends —  from online, especially those from the Nerdy Book Club community.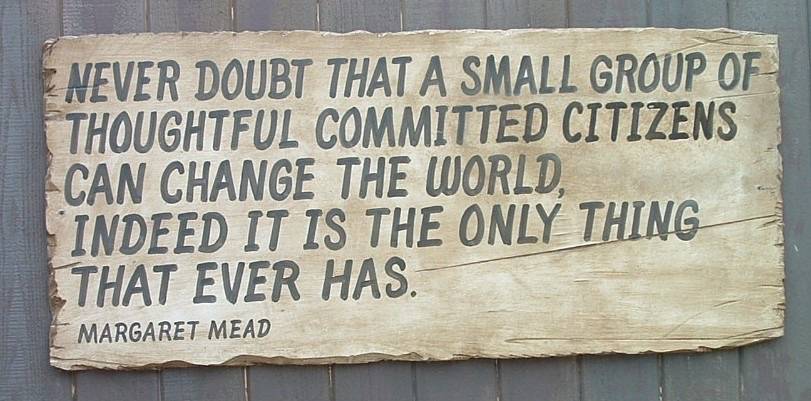 One person I connected with was Julie Kirchner, a fourth grade teacher (at the time) from just outside of Minneapolis. She and her sister attended one of my book signings, and we all spoke for awhile. Afterwards, I kept in touch with Julie, and a few months later, I Skyped with her students on World Read Aloud Day.
Around the same time, Julie learned she was going to become the new library media specialist at a nearby school. She was determined to figure out a way to get me to visit several of the schools in her district. I was determined to go. After months of planning, we finally made the author visits happen this past December.
---
Every so often at a school visit, you're positively blown away by an individual student.
Either something they say or something they created makes you pause and say, "Wow, that kid is something special." For me, this happened most recently when I visited Corisa Walker's elementary school in Vernon, New Jersey. The questions one student posed — and the connections he made — were extraordinary.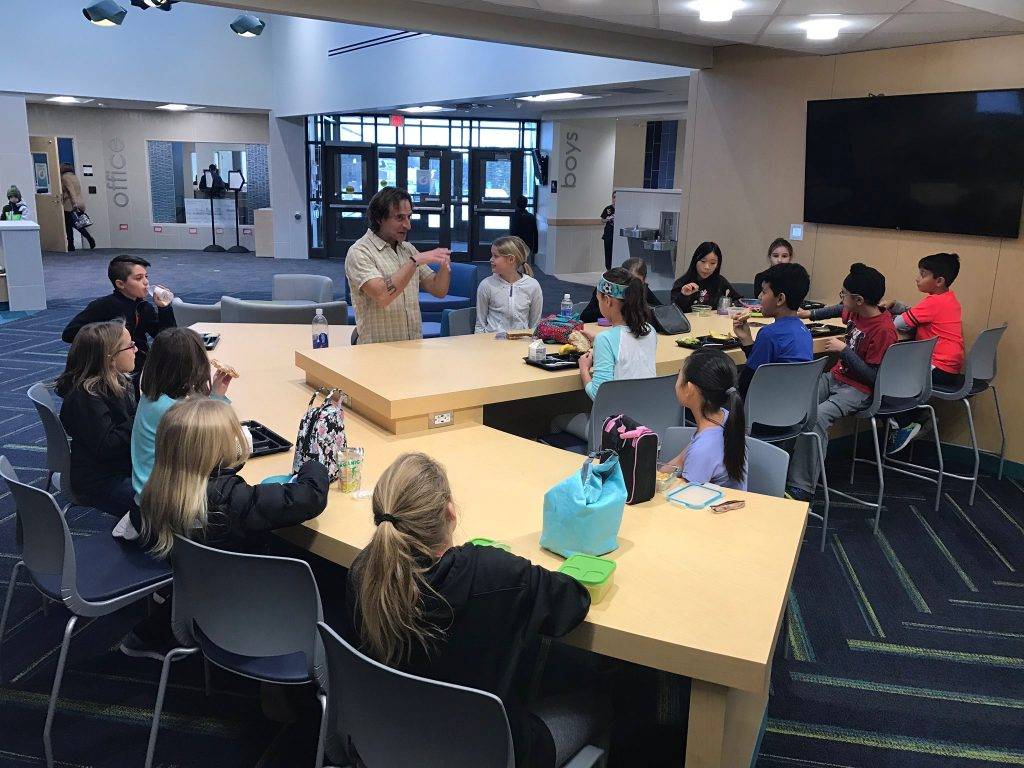 It also happened when I visited Greenwood Elementary in Plymouth, Minnesota. This was Julie Kirchner's former school. It was the first school I visited during my author visits there.
Linda Gibbons coordinated my visit to Greenwood. I presented to three different groups and had lunch with a small group of fourth and fifth graders, as well as with Linda and the principal, Dr. Brad Gustafson.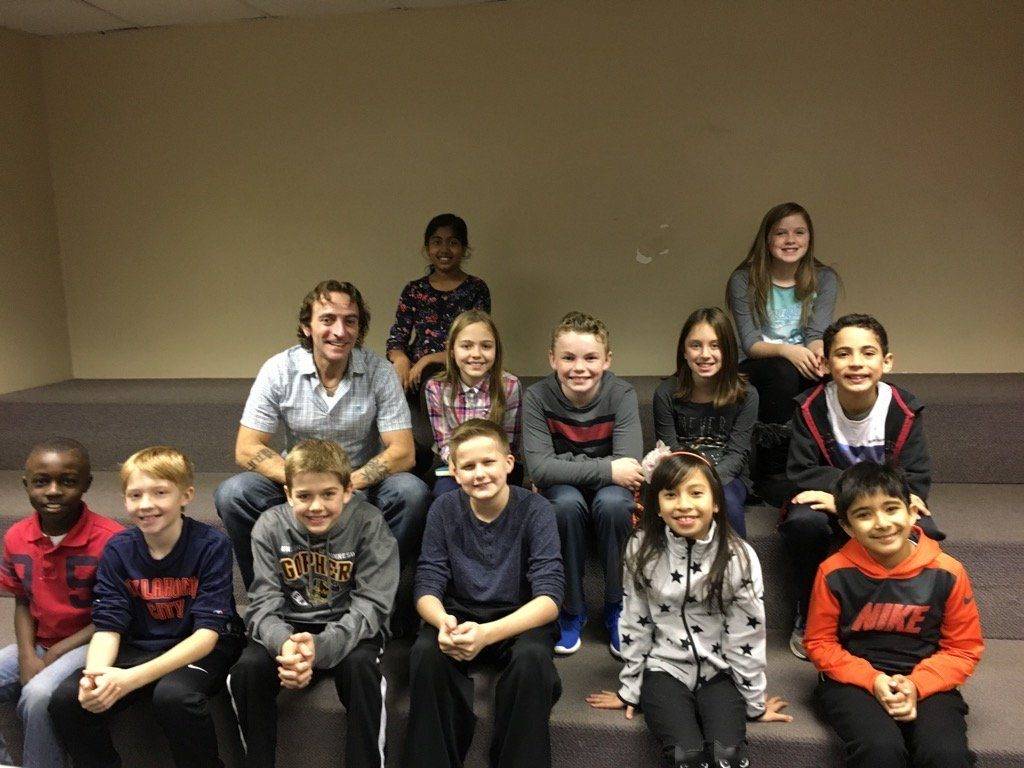 After the lunch, several of the teachers, Linda, and Brad arranged for me to meet with a fourth grade student, Paolo. Paolo writes comics. He loves graphic novels, especially Captain Underpants. We talked about comics, graphic novels, and… Captain Underpants.
I had no idea I was visiting Brad's school. In fact, I didn't make the connection until after my visit. I knew of Brad's work as an educator. He's friends with another rockstar educator friend, Dr. Tony Sinanis. Brad's presenting at a Scholastic Reading Summit this summer. Both Tony and Brad are excellent follows on social media.
Then we talked about his writing, his comics.
They were good — really good. But I didn't have time to give them the read-through that I wanted to. They weren't completely finished, either. So I wrote on the first page, "Keep on writing!!" Then I told Paolo when he finished it, I'd love for him to send it to me. I wanted to read them.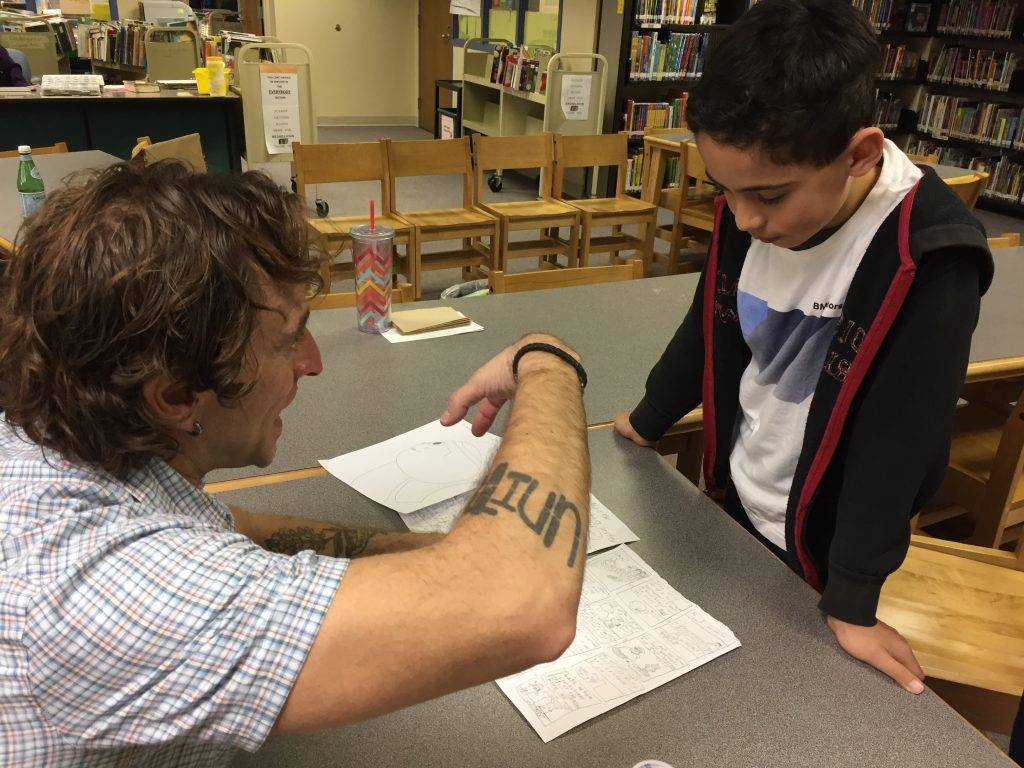 A few weeks later, I got an email from Paolo's mom, Dafne. Would it be okay for him to send me the comic? Paolo sent them a few days later. They were incredible. Funny, intelligent, witty, and full of heart.
I hadn't spoken to Dav Pilkey in years.
I'd only met him once. In the summer of 1998, Kevin and I took a trip to the Pacific Northwest. When we were in Eugene, Oregon, we spent a few days with him. He made us this awesome Dumb Bunnies clock.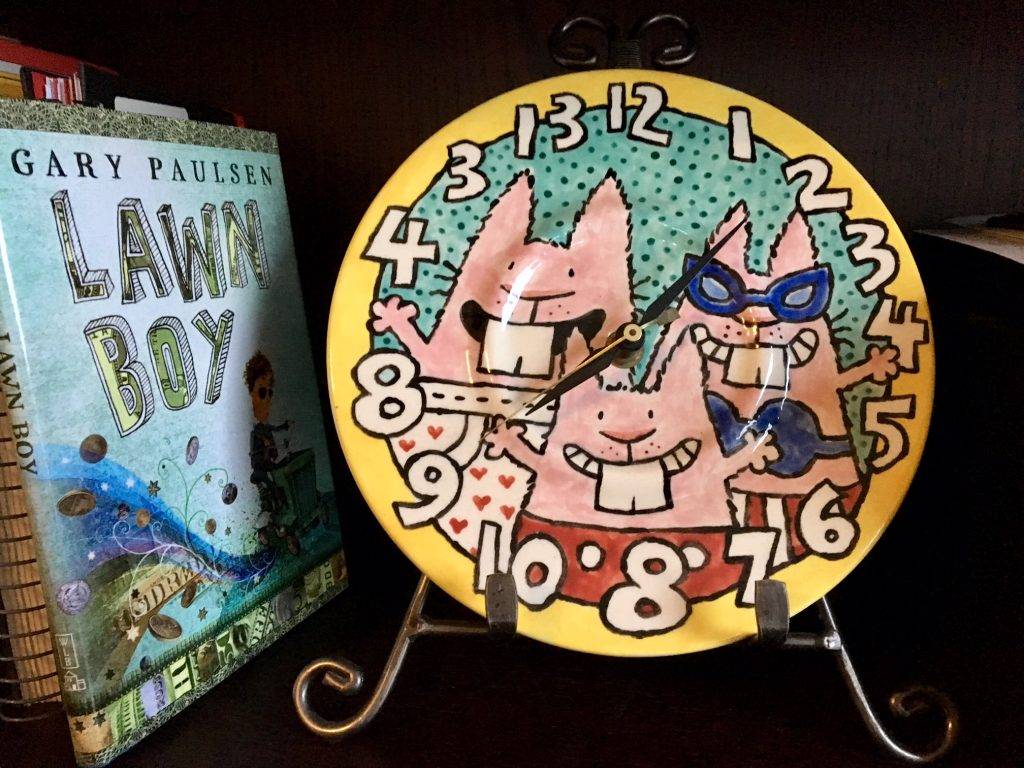 That was the last time I'd heard from Dav.
I wanted Dav to take a look at what Paolo had created.
I wanted him to see how he'd inspired Paolo. I hoped Dav would maybe give Paolo a "great job" shout-out, or something along the lines. But I knew how crazy busy Dav was. His new graphic novel series had just come out.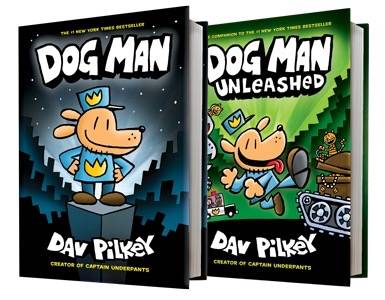 I reached out to Dav on Instagram.
If you're not following Dav Pilkey on Instagram, you're missing out. Sheer brilliance.
I didn't know if I'd hear back.
I heard back the next day. I sent him the comics. Then I didn't hear back, so I followed up a few weeks later. Dav had been away. He said he'd respond to Paolo next week.
I didn't tell Paolo. Paolo didn't even know I'd sent his comics to Dav.
I did tell Julie Kirchner. I told Brad Gustafson, too. I told Brad because if Dav did send something to Paolo, it would be through him at the school. I asked Brad not to say anything in case things didn't work, but if they did work out, he might want to plan something nice for Paolo.
A few days later, my Twitter feed started scrolling. A number of the posts included this picture.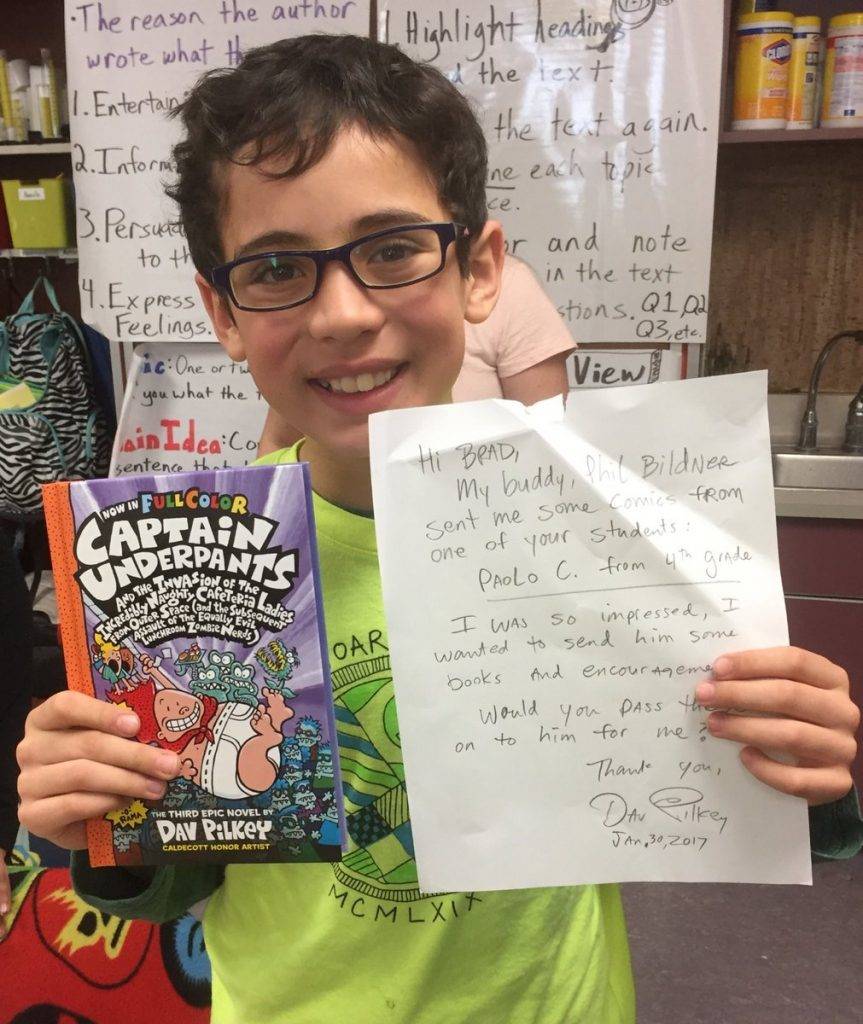 A few days later, Brad was kind enough to share the video of the moment. When you need a pick-me up these days, just watch this:
Brad wrote a blog post about the experience. It's worth checking out.
But before you leave this page…
Here's to the educators who are sharing books with kids — the books they want to read — every day.
Here's to the educators walking the talk, and showing what it really means to be a community.
Here's to the Nerdy Book Club and NCTE. Moments like these would never happen without you.
Here's to Dav Pilkey, a real-life superhero.
Tra-la-la!!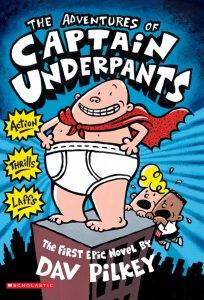 Follow the fifth grade adventures of Rip and Red. Be sure to pick up copies of A Whole New Ballgame and Rookie Of The Year.
Click a book cover to go to the purchase page >
Know a school that would love a visit from Phil?
It's easy!
Click a button to tell someone about school visits from Phil >