MARVELOUS CORNELIUS is a modern day folktale. If you teach folktales in your classroom or library, please consider using this text. Here are some of the ways that MARVELOUS CORNELIUS fits the criteria:
Generally speaking, folktales are short stories or legends that are often about the common person. Cornelius Washington (Marvelous Cornelius) was a New Orleans hopper, a garbage man during the time of Hurricane Katrina. He was the epitome of the everyday person.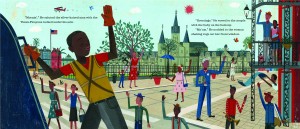 Folktales try to help humans cope with the world. Many times, they introduce us to difficult or unpleasant subject matters. While visiting New Orleans in August for the tenth anniversary of Hurricane Katrina, a parent told me a friend had shared MARVELOUS CORNELIUS with her kindergarten-aged child. Obviously, the child wasn't alive during the storm. The book provided the parent with a way to begin a meaningful conversation with her child.
Folktales speak to universal and timeless themes, and MARVELOUS CORNELIUS contains many. The book opens with Dr. Martin Luther King, Jr.'s "street sweeper" quotation. No matter what one's role is — composer, lawyer, doctor, painter, police officer, garbage person — one should perform that role to the best of his or her ability.
That's exactly what Cornelius did.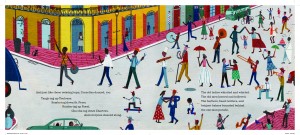 Cornelius greeted everyone along his route. He performed tricks. He danced the streets as if he was a one-man parade. With the joy he brought to his calling, Cornelius inspired others. Then when adversity struck, he inspired many more — not just those from New Orleans, but people everywhere — with his resilience and waterproof soul.
Folktales also contain supernatural elements. MARVELOUS CORNELIUS certainly contains some larger-than-life elements and examples of exaggeration. For instance, as explained in the Author's Note, "the garbage bags he threw into his hopper didn't land in perfect pyramids. Nor did the destruction following Katrina rise as high as the steeple atop St. Louis Cathedral."
Finally, folktales are passed down from one generation to the next, and I certainly hope that happens with MARVELOUS CORNELIUS. Cornelius Washington embodied the spirit of New Orleans. That's a spirit that deserves to last for years, if not forever.
Hootie-Hooooo!!