When we lived in Brooklyn, whenever we saw our friends, it was usually only for a quick bite or a drink or to chill on the roof. More often than not, we all had one eye on our screens because someone was always running to pick up the kids at afterschool, heading to yoga class, or meeting a new client for coffee. Such was life in the faux-hipster city.
Since leaving Brooklyn the year before last, one of the unintended (and best) consequences is the quality time we now spend with our friends. When they come to visit, it's not for an hour or two or something that's squeezed in between soccer practice and doggy day care. When they come, they stay for a day or two or three… and we're hoping more and more do the same (hint, hint).
Of course, when our friends bring their kids, books are a big part of the visit. Each night before bedtime, we have Readers Theater. Everyone participates. It's the perfect way to end the day.
Recently, when our friends Orrie and Sebi visited with their daughters Lucia (age 7) and Nina (age 4), a later-than-usual bedtime (the result of a ruthless and cutthroat game of Spoons) pushed our reading tradition to the following morning.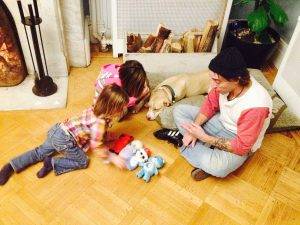 That next morning turned into a seven book morning! We started with Wolfie the Bunny by Ame Dyckman and followed that with Mother Bruce by Ryan Higgins. Then we had a double dose of Mike Curato —  Little Elliot, Big City and Little Elliot, Big Family. Next, we read How to Read a Story by Kate Messner and It's Tough to Lose Your Balloon by Jarrett Krosoczka. The last book we shared was Audrey Vernick's First Grade Dropout.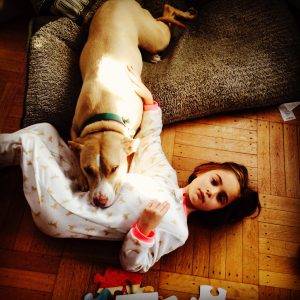 Later in the day, I was hanging out with Lucia and Katniss. It's amazing to see the two of them together. While Lucia was telling me all about Katniss, something slipped out of her mouth. Instead of calling me "Phil," she called me…
Mommy!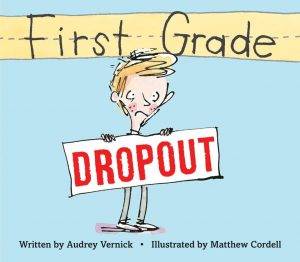 The moment the word left her lips she knew what she'd done. Her eyes darted to me. Had I heard? Oh, yeah, I'd heard!
Then came that moment of mortification. Followed by the laughter, uncontrollable laughter. Then the "please-don't-tell-anyone" pleading… but of course, I told everyone. Everyone reacted with the same joy and laughter.
Thank you, Audrey! You've gifted our families with a lifetime memory.